Bellevue Avenue Ribbon Cutting
This past Friday, A Tiny Home for Good celebrated another ribbon cutting ceremony at Bellevue. Here, we got to display to the public our four new units, that our residents will be moving into very soon. Despite the weather being cold, and rainy, the turn out was unbelievable and A Tiny Home for Good would love to thank everyone that made the day that much more special. One of the new residents, Dale, has given unmatched hard work and dedication to help get the units finished.
Also, we would like to extend a very special thank you to Syracuse Mayor, Ben Walsh for saying a few inspiring words at the ceremony. Mayor Walsh stated how Syracuse is a city that embodies hope. Syracuse is making a major comeback after the job deficit that occurred. There is a lot of pride in this city that can go unseen sometimes, but bringing awareness, like what A Tiny Home for Good is doing, gives more opportunities to those who may need it.
Here are some photos of what the tiny houses look like on the inside. Each unit was equipped with beds, bedding, bed side tables, lamps, laundry supplies, toiletries, microwave, coffee pot, kitchen utensils, towels and so much more to get the home owners started off! Thank you to everyone that helped put these awesome houses together!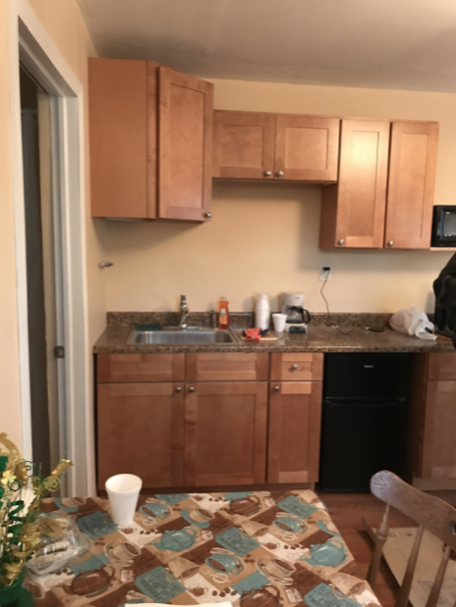 Congratulations to Dale for being the ribbon cutting recipient, and congratulations to the other new home owners of Bellevue!
Thank you to everyone that has helped throughout this entire project, we could not have succeeded without all of you; there were so many helping hands that made this possible for us. We cannot wait to start the next projects ahead of us, and bring more hope to the city of Syracuse.
By Erin Gillingham A Tiny Home for Good Support Staff